WELCOME TO ALLIANCE DOORS
SERIES 11EXD INDUSTRIAL ROLLER SHUTTERS
Many workplaces may contain, or have activities that produce, explosive or potentially explosive atmospheres. Examples include places where work activities create or release flammable gases or vapours, such as vehicle paint spraying, or in workplaces handling fine organic dusts such as grain flour or wood.
For such environments it is necessary for certain products to be ATEX certified. When manufacturing roller shutters for areas such as these we use intrinsically safe drive and control equipment which complies with the ATEX Equipment Directive (Directive 94/9/EC).
Our Series 11Exd Electrically Operated roller shutters are a robust product ideally suited to provide a protective system in potentially explosive atmospheres.
Each roller shutter is made to measure, CE marked, and fitted with either a direct drive or flange mount motor, some are assisted with a counter balance spring when side room requirements prevent the use of a safety brake, ensuring each product complies with European directives and gives you peace of mind.
Each design has been thoroughly tested and inspected by Exova enabling us to issue Declaration Of Performance.
All our Roller Shutters are manufactured in house at our facility in Leigh and are subject to continuous product development, ensuring the products we offer are of the highest quality whilst maintaining ease of installation.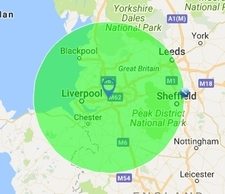 BESPOKE SOLUTIONS FOR YOUR BUSINESS

Thank you for the quotes John, I was impressed with your knowledge and liked the presentation of quotes, I would like to proceed with an order for the supply & fit of Galvanised Shutter door
Kevin Gill  Thatchers Cider, Winscombe.

Another job completed on time, 10 out of 10.
Perter Clift GPL Construction

I give you 9 out of 10 for performance, Very satisfied with the job.
John Stanley,  JJ Smiths, Kirkby

Very competent and extremely satisfied, highly recommend.
Philip Moss,  George Moss & Sons, Lowton, Leigh

Thank you for the invoice and your first class job of fixing our shutter door.
Michael Ede,  Eurovision Logistics

Thanks for all your help you've been great and I will highly recommend you again.
Diane Green,  Rutter Green Real Estate & Property

Both the Headteacher and myself would like to say thank you to Phil and Kieran. They arrived early and managed to finish in good time (we had a Christmas fair in the afternoon).  They caused minimal disruption and were very professional.
Janette Gaskell,  Business manager
St Williams Catholic Primary School

As ever the service from Alliance Doors is superb. No issues with the fitting of the product and the quality is fine 10/10.
Stephen Harrison  The BID Group Ltd

No problems – Product to usual high standard and delivery on time as always. Many thanks 10/10
Alan Wormald  AWSS

Our ongoing custom and confidence in the industrial products you supply us with and professional advice means we are very unlikely to jeopardise our professional working relationship we have built up over the last number of years by looking for similar products elsewhere, we are very happy with the current situation and the products you supply us with.
Nick Rawley  Copeland Door Engineering Ltd

Can I please just say how pleased we were with not only the service provided but the work that was undertaken
Great job
Steve Holgate  J Van Vliet

Hi Mr Stuart
Thank you once again for today, your service was impeccable.
I have forwarded it to my accounts department for them to pay it, any problems don't hesitate to contact me, cheers.
Phil  PF Jones
See for yourself by watching one of our informative videos
Alliance Door Engineering