[rev_slider alias="slider-1"]
WELCOME TO ALLIANCE DOORS
INDUSTRIAL DOORS IN BLACKPOOL
When it comes to protecting your property, industrial doors in Blackpool are essential. They can be manufactured to meet your exact specifications and deliver a reliable, long-term service. These industrial access points can be used in a wide range of properties across Blackpool. Designed from extremely hard-wearing materials, these access points will provide high levels of security.
Here at Alliance Doors, our experienced team manufacture all our industrial shutters and doors in-house. These made-to-measure solutions will deliver many years of reliable service to your property. Over the years, our experienced team have worked on a complete range of properties. Whether you're struggling to deal with heat loss issues, or you have a limited clearance space in your industrial facility, our team are here to help.
INDUSTRIAL DOORS FOR A COMPLETE RANGE OF PROPERTIES
In the past, our specialised team have worked to provide a comprehensive range of made-to-measure doors for all kinds of properties. All our industrial roller-shutter doors are made on-site at our main premises. This allows for complete quality control and means we can manufacture bespoke shutters and doors in record time.
Just some of the commercial and industrial facilities that we have delivered hard-wearing doors and shutters to include:
Vehicle Depots.
Bus and Train Stations.
Airports, Terminals and Hangars.
Warehouses, Factories and Industrial Complexes.
Retail Outlets, Supermarkets and Shopping Centres.
Whatever kind of industrial shutters or doors you need, our experienced team will be able to deliver. Our made-to-measure solutions are ideal for all kinds industrial properties.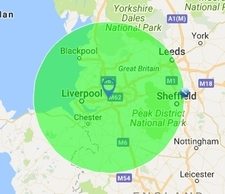 WHAT ARE THE BENEFITS OF INDUSTRIAL DOORS?
Industrial doors for Blackpool businesses can provide a complete range of advantages. These solutions are used to great effect in delivering a range of benefits, including:
Industrial roller-shutter doors can offer a high level of security to any business. Both internal and external roller-shutter doors can provide a complete range of security features. They can include a variety of hard-wearing locks which are resistant to a variety of damages.
Industrial doors can be installed in a range of properties. They are ideal for use in both internal and external access points. They can be operated extremely quickly and safely in a range of environments. As industrial doors can be power-operated, they are often much easier to use than manual doors. Used with simple key switches, these doors can be opened extremely quickly and with a minimum of effort.
For larger doors and entrance points, many power-operated roller-shutter doors can be opened partially or fully. This can make it easier to quickly access any property.
Many insulated doors can help to prevent draughts in your workplace. The seals of your insulated doors are extremely resilient and will prevent cold air from entering your property. Heating your workplace can be extremely expensive if you're having to tackle draughts and other issues.
RELIABLE SERVICING AND REPAIRS FOR INDUSTRIAL DOORS IN BLACKPOOL
Here at Alliance Doors, our experienced team can deliver an industry-leading service to all kinds of industrial properties. If your access points have suffered any kind of damage, then you need to get in touch with an experienced team today. Our team of industrial doors experts can help to repair damaged doors and shutters.
The Alliance Doors' team can deal with practically any kind of damage. For power-operated doors, it can be difficult to diagnose and repair issues with operating systems. Our experienced team can conduct repairs on all kinds of power-operated systems, allowing you to enjoy the benefits of long-term, reliable shutter doors. In the worst cases, even expert repairs may not be enough. We are also able to deliver reliable replacement services for severely damaged doors and access points.
Our specialist team can also deliver regular annual servicing for all kinds of doors. Thanks to our reliable servicing, you'll be able avoid potential problems with your industrial doors. Annual servicing is a requirement of many industrial roller-shutter doors. Without it, you could be allowing minor wear and tear to lead to serious problems.
GET IN TOUCH WITH ALLIANCE DOORS FOR RELIABLE COMMERCIAL DOORS
Here at Alliance Doors, we can deliver a complete service for all kinds of industrial properties. We can create bespoke doors and roller-shutters for use in industrial complexes, public areas and commercial buildings. In addition to creating entirely new and bespoke solutions, we can deliver reliable repairs and annual servicing on pre-existing models.
For more information, don't hesitate to get in touch with our experienced team today. You can reach our industrial roller-shutter door specialists by calling us directly on 01942 683601. You can also send any questions or concerns you might have via our simple online contact form, and we'll get back to you as soon as possible.

BESPOKE SOLUTIONS FOR YOUR BUSINESS

Thank you for the quotes John, I was impressed with your knowledge and liked the presentation of quotes, I would like to proceed with an order for the supply & fit of Galvanised Shutter door
Kevin Gill  Thatchers Cider, Winscombe.

Another job completed on time, 10 out of 10.
Perter Clift GPL Construction

I give you 9 out of 10 for performance, Very satisfied with the job.
John Stanley,  JJ Smiths, Kirkby

Very competent and extremely satisfied, highly recommend.
Philip Moss,  George Moss & Sons, Lowton, Leigh

Thank you for the invoice and your first class job of fixing our shutter door.
Michael Ede,  Eurovision Logistics

Thanks for all your help you've been great and I will highly recommend you again.
Diane Green,  Rutter Green Real Estate & Property

Both the Headteacher and myself would like to say thank you to Phil and Kieran. They arrived early and managed to finish in good time (we had a Christmas fair in the afternoon).  They caused minimal disruption and were very professional.
Janette Gaskell,  Business manager
St Williams Catholic Primary School

As ever the service from Alliance Doors is superb. No issues with the fitting of the product and the quality is fine 10/10.
Stephen Harrison  The BID Group Ltd

No problems – Product to usual high standard and delivery on time as always. Many thanks 10/10
Alan Wormald  AWSS

Our ongoing custom and confidence in the industrial products you supply us with and professional advice means we are very unlikely to jeopardise our professional working relationship we have built up over the last number of years by looking for similar products elsewhere, we are very happy with the current situation and the products you supply us with.
Nick Rawley  Copeland Door Engineering Ltd

Can I please just say how pleased we were with not only the service provided but the work that was undertaken
Great job
Steve Holgate  J Van Vliet

Hi Mr Stuart
Thank you once again for today, your service was impeccable.
I have forwarded it to my accounts department for them to pay it, any problems don't hesitate to contact me, cheers.
Phil  PF Jones
See for yourself by watching one of our informative videos