AUTO ROLL GARAGE DOOR
Finding the perfect doors for your domestic or industrial property is essential for your home or business' security, comfort and practicality. Here at Alliance Doors, we can provide industry-leading auto roll garage doors for all kinds of properties. Over the years, we have delivered a range of shutters to industrial, commercial and domestic properties across the UK. We can deliver a range of bespoke designs, allowing us to provide the perfect solution for any property.
We can deliver a variety of different roller shutters to suit our clients' property. Our automated garage doors can come equipped with remote controls to allow for easy access. This is essential as it means you won't need to leave your car to open or close the garage door. Thanks to their compact design, these kinds of garage doors take up very little space. Whatever kind of garage entryway you're looking for, you'll be sure to find it amongst our diverse range.
Auto Roll Garage Doors for Domestic and Commercial Properties
Auto roll shutters and doors are the perfect choice for any modern-day home. They can deliver a range of benefits when compared to traditional entrances. Just some of the benefits that you'll be able to enjoy can include:
Extreme Convenience – As these practical garage doors come with remote controls, you won't need to leave the warmth of your car to open or close the door. With a simple push of a button, you'll be able to watch the door close and auto-lock behind you. Thanks to the simple and hard-wearing nature of these designs, they will provide long-lasting and reliable service – even in extreme weather conditions.
Perfectly Safe – As standard, all our auto roll garage doors come with a range of safety features. A safety beam will prevent the door from closing if there is something in the way, preventing damage to the door, your car or any other materials which might be in the way. If the safety beam fails, these entrances are also equipped with reliable safety edges. These rounded edges will prevent your property, or yourself, from being cut or damaged by the door as it closes or opens.
High-Levels of Security – Auto roll shutters are made from hard-wearing and versatile materials. They will be able to withstand most impacts and can be locked to prevent manual access. As these systems auto-lock, it is also something else that you don't need to worry about.
Protected Against the Weather – The materials of the shutter will be highly resistant to the effects of the weather. These doors can also come equipped with weather seals to prevent cold air, or any other weather effect from entering your garage space.
The Lynx Automatic Roller Garage Door System
One of the most popular auto roller doors in the UK is the Lynx. This automatic roller is a hard-wearing, compact design which will provide you with many years of reliable service. The Lynx comes with all the features listed above as standard and can be customised to suit your property's needs.
These auto roller doors are insulated against the effects of the weather and are made to measure. We will measure the entrance space and manufacture the door to provide a perfect fit. The Lynx auto roll system is also fitted with a tubular motor to provide long-lasting and reliable service with no problems. We even provide a 5-year guarantee with every Lynx auto roll system, so confident are we that you will have no issues with this industry-leading design.
In addition to the practical benefits, our team can deliver your Lynx auto roll system in whatever colour and style you require. You'll be able to create the perfect exterior design with these essential security features and entrances.
Auto Roll Garage Doors Maintenance and Repair Systems
Over the years, the Alliance Doors team has been called to tackle a range of issues, including damaged doors, motors and more. We can provide comprehensive maintenance and repair services to make sure that your entrances are operating as they should. Although your garage doors should deliver many years of reliable service to your property, a reliable maintenance and repair service can make all the difference.
Contact Alliance Doors for Hard-Wearing Auto Roll Garage Doors in the UK
Here at Alliance Doors, we are dedicated to delivering high-quality garage doors to all our clients in the UK. Based in the north-west, we manufacture all our roller door systems in-house. This means that we can test every single model that we sell, ensuring that we never provide a low-quality design.
Each design has undergone extensive external testing too. All our auto roll garage doors are CE marked and meet all relevant EU standards. What's more, our designs have also undergone extensive testing by Exova. This means that we can provide a Declaration of Performance for each one of our designs.
Over the years, our team has delivered and installed a range of industry-leading shutters and doors for all kinds of facilities and properties in the UK. We have worked alongside home owners, businesses and industrial experts to develop and install the perfect, bespoke shutter systems for their needs.
Whether you're looking for a manual garage door or a hard-wearing and convenient auto roll garage door, get in touch with our professional team today. You can reach us directly by calling us on 01942 683601. If you have any questions or concerns, don't hesitate to get in touch with our team today by calling us on [email protected] and we'll get back to you as soon as we can.
[contact-form-7 404 "Not Found"]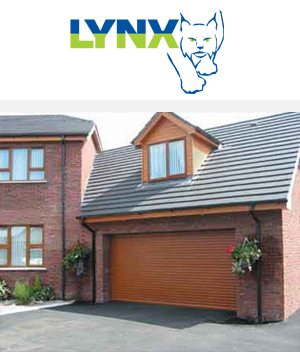 Lynx Automatic Roller Garage Door
Automatic Garage Door attractive and convenient. Come with remote control as standard and also safety beam. Compact design lends more space to your garage than traditional garage doors.