FIRE SHUTTERS AND FIRE RATED DOORS 
Alliance Doors offer a bespoke range of fire shutters and fire rated doors which are highly versatile & durable and can be made to fit any commercial & industrial building, no matter the size or shape of the opening you require. Installing fire shutters and fire rated doors Globally, Alliance Doors has secured a strong brand reputation for manufacturing solid industrial doors, giving our customers the confidence when buying our services. Check out our wide range of fire shutter systems below which will help prevent the spread of a fire and contain the hazard until the authorities arrive. They can also seal rooms from one another to prevent the fire spreading into a stock room or showrooms.
4 HOUR FIRE PROTECTION CERTIFICATION
Each shutter design has been thoroughly tested and inspected by Warringtonfire, an accredited independent testing group, enabling us to issue Declaration of Performance. Our fire shutters are certified to provide up to 4 hours protection from fire. Performance characteristics are according to harmonised standards BS EN 16034:2014 & BS EN 13241-1:2003, giving our customers peace of mind that the fire shutter systems we manufacture are of the highest quality and are fully compliant with the latest British and European standards.
FIRE
SHUTTERS
REPAIRS – MAINTENANCE & SERVICING
Does your fire shutter require maintenance or repairs? Alliance Doors are specialist in repairs and maintenance. All of our engineers are fully qualified and have been fitting industrial doors of all shapes and sizes to our clients for many years.
While visiting your premises our engineers are able to give you the expert advice needed to ensure your fire shutter continues to work as it should and prolong the doors lifespan. All our engineers have been through intensive training programs to ensure the quality of work is to the highest possible standard.
We're able to carry out repairs on a wide range of brands such as;
We're also able to carry out servicing and maintenance on bespoke fitments such as aircraft hangers meaning that we are not limited to what we can repair or fit as new.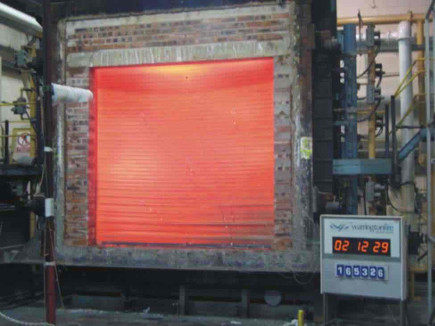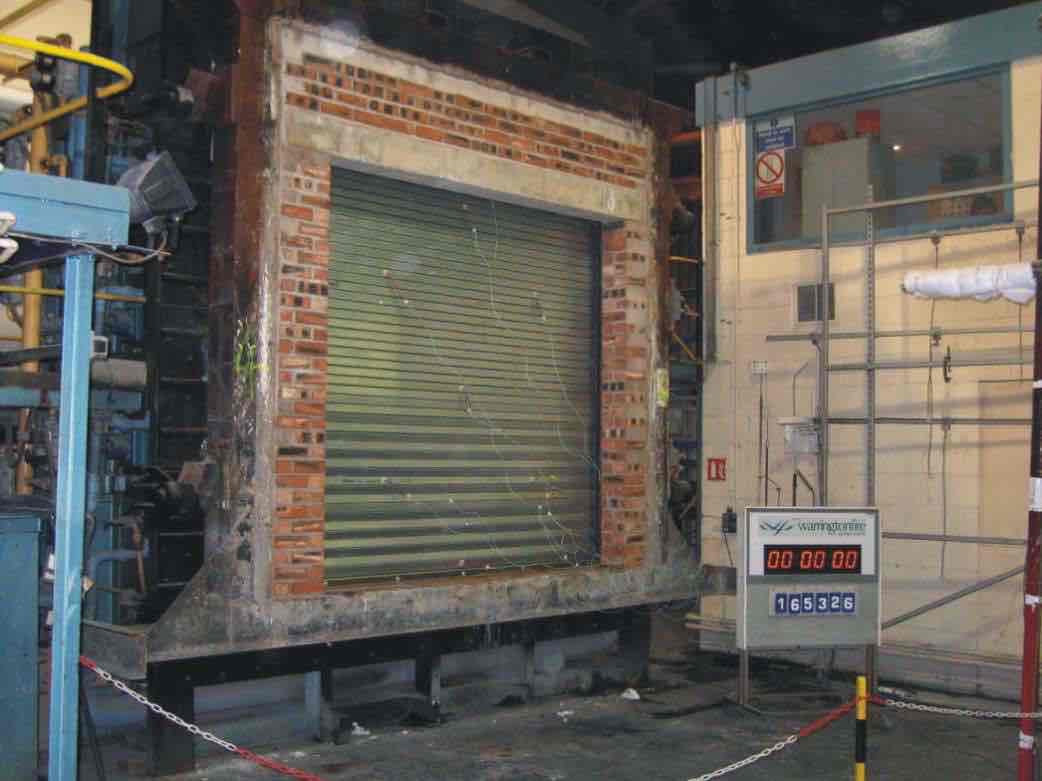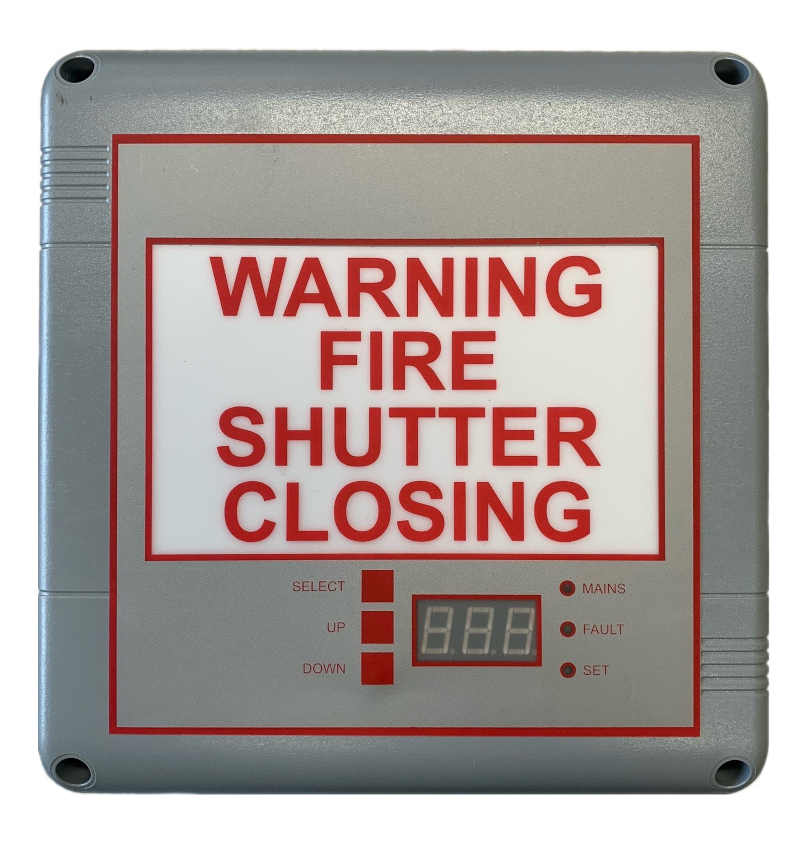 FAQs
What is a Fire Shutter?
Fire shutters prevent the spread of fire and smoke while protecting your staff, property, machinery and products within your premises.
As your business is responsible and liable for the lives of your staff, visitors and customers, you should already be aware of the value appropriate fire protection can offer. However, it is important to always ensure you review your requirements based on the contents of your building. Your fire plan needs to fully protect your property and employees from damage or loss, which can also fundamentally impact your reputation as a business.
How are fire doors given their resistance rating?
A key consideration when specifying a fire shutter door is the fire resistance level (FRL). This is dependent and how well the doors have performed in a full destructive, real world, fire resistance test. This is a very costly process for the manufacturer and to achieve a 4 hour fire resistance rating requires a very substantial level of insulation and thickness of fire resistant materials.
How often should fire shutters be serviced?
Having your fire shutters regularly serviced and maintained will extend their life, the integrity of their fire rating and will help reduce costly repair requirements as they wear. However, there is more to regular servicing than just taking precautions. Take a look at our Industrial Door Maintenance contracts for ongoing maintenance and servicing.
How do you clean and lubricate fire shutters?
To clean the mechanism of the fire shutter, rub down the guide rails with a cloth to remove any webs or dust that has gathered. Then spray a fine layer of lubricant down the guide rail, but only enough for a thin covering. The best lubricant is silicone spray, which lubricates and protects the mechanism of the door.
Where do I need to install fire shutters?
Fire shutter doors are suitable for all establishments, but are most effective in high risk areas such as kitchens. Products can offer optimum fire protection ranging from 1 to 4 hours, which can be integrated into existing fire and security alarm systems.
A key consideration when specifying a bespoke fire shutter door is the fire resistance level (FRL).
A 4 hour fire rated power operated industrial fire shutter suitable for larger openings which need to be used on a daily basis. Can be operated by solenoid (connected to fire alarm) or fusible link. Driven by a three phase or single phase motor. Can also have the addition of a Fire Door Interface Panel which can give timed delay or re-open feature. Photo-cells can be added to panel as an additional safety feature. Once the door is in the closed position, it creates an impregnable fire seal of 240 minutes.
Solenoid – Needs to receive a 24V DC signal (non-polarised) from the fire alarm to trigger the solenoid. Door will fall under gravity by releasing the brake on the motor.
FDI panel – Can receive either a 24V DC signal (non-polarised) or normally open/normally closed volt free signal. Capable of time delay feature on pedestrian egress routes as well as automatic re-open facility once the fire alarm has been re-set. Photo-cells can be added to prevent the door closing onto an obstruction which will be overridden in fire activation mode once three complete attempted closings have been made. Door will be driven down via the motor, but in the event of a power failure the FDI panel will trigger the solenoid causing the door to fall under gravity.
A 2 hour fire rated tubular motor shutter more suited to smaller openings such as kitchen serveries and reception counters.
Compact design gives excellent aesthetic finish using the 50mm flat lath. All doors come with a manual override. Door is operated by key switch or push button linked to AEO-900 relay to allow for link to fire alarm. Battery back-up is available as an option if a maintained supply is not available. Normally open volt free contact is required from the fire alarm. Once triggered the door is driven closed under power. Can also have the addition of a Fire Door Interface Panel which can give timed delay or re-open feature. Photo-cells can be added to panel as an additional safety feature. Once the door is in the closed position, it creates an impregnable fire seal of 120 minutes.
Please Note – Door must have a maintained supply. If this is not available then a battery back-up unit is required.
Profile Door Engineering – experts in sliding, folding doors.
Heavy-duty door ideal for goods lifts, the Ram-Fold Lift Shutter Door is designed to maximise the opening width, running smoothly along discreet top and bottom tracks with the shutter folding neatly to one side. Rolled from a single sheet of steel, the one-piece picket ensures the lattice and leaf have an even operation within the door whilst retaining strength. The door consists of 152mm (6") galvanised plain sections, hinged vertically by a continuous hinged strip.