Fire Rated Roller Shutter w/Tubular Motor - 4 Hour Rating - The Phoenix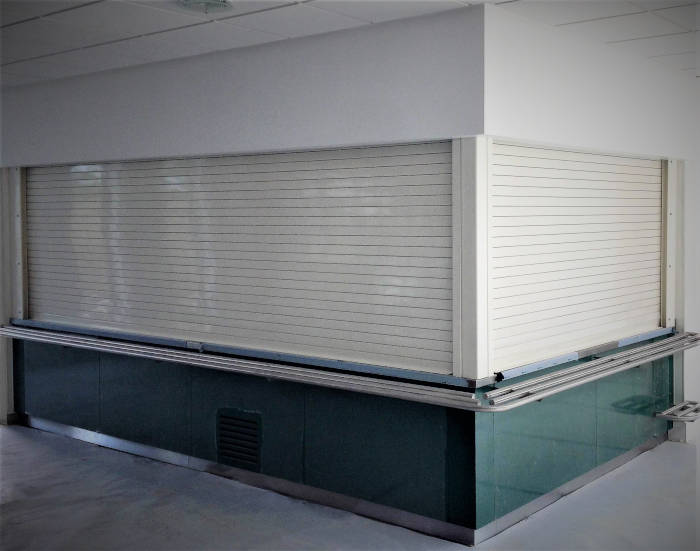 4 Hour Fire Resistant Roller Shutter
Tested and approved by Warringtonfire to the essential
characteristics of BS EN 16034:2014 & BS EN 13241-1:2003.
Suitable for environments which require a fire protection barrier
for up to 4 hours.
• 30 Minutes
• 60 Minutes
• 120 Minutes
• 240 Minutes
Our Series 37 'Phoenix' Fire Rated Roller Shutter is a highly versatile and durable product with optimal fire-resistant properties. It is designed for environments where there is need for a physical security deterrent and also protection from fire. Unique features within the design make it the ideal choice for applications which require a neat and unobtrusive shutter system, such as schools, hospitals, and commercial premises.
In the event of a fire, an interface relay panel, which is connected to the fire alarm, enables the actuation of a powered controlled descent of the shutter by a 240v AC tubular motor. An uninterruptable power supply (UPS) / battery backup unit is utilised to ensure that when the fire alarm is activated, the shutter will close even if there is a mains power failure. A push button station or key switch provides normal, everyday operation. The shutter utilises a curtain assembled from sections of 2" flat lath which allows for a more compact box, reducing the head space requirement above the opening, and making it more aesthetically pleasing.
The design has been thoroughly inspected, tested and audited by Warringtonfire, an accredited independent testing group, enabling us to issue Declaration of Performance. Performance characteristics are according to harmonised standards BS EN 16034:2014 & BS EN 13241-1:2003, giving our customers peace of mind that the fire shutter systems we manufacture are of the highest quality and are fully compliant with the latest British and European standards.
All of our roller shutter systems are manufactured in house at our production facility in Wigan, Greater Manchester, and are subject to continuous product development, so the door user can be assured of both proven and state-of-the-art technology whilst maintaining ease of installation.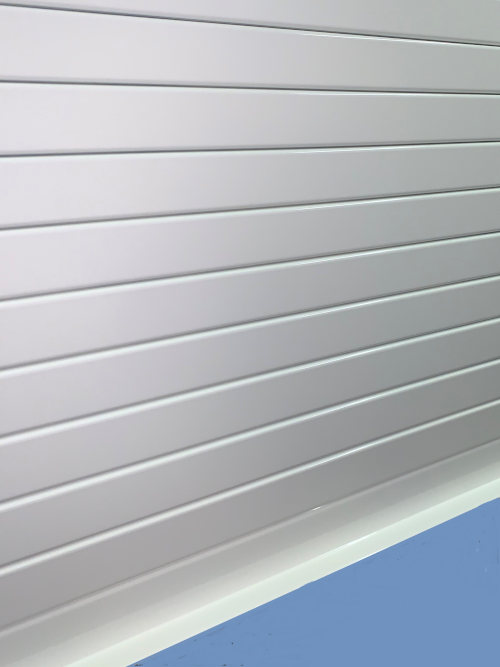 The curtain is assembled from 2" flat lath which allows for a more compact box.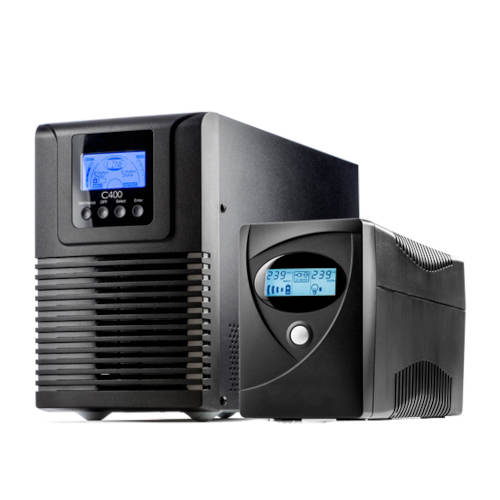 A UPS Battery backup will enable the door to close in the event of mains power failure.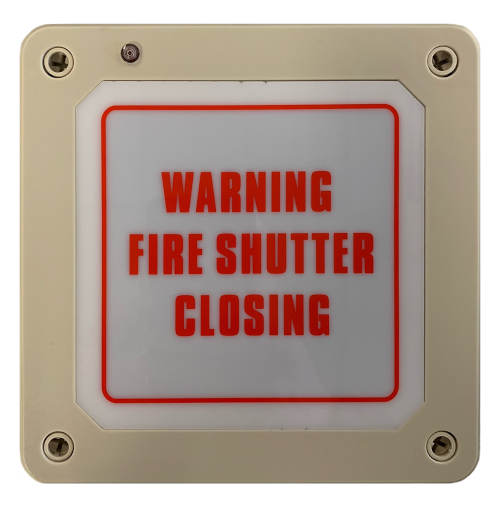 Option for fire door interface panel which provides an audio and visual warning when the door is to close.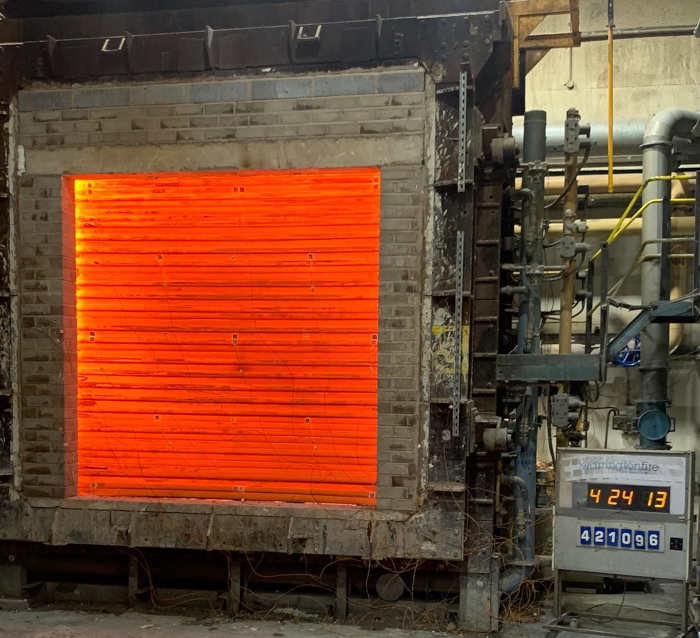 | Fire resistance test at Warringtonfire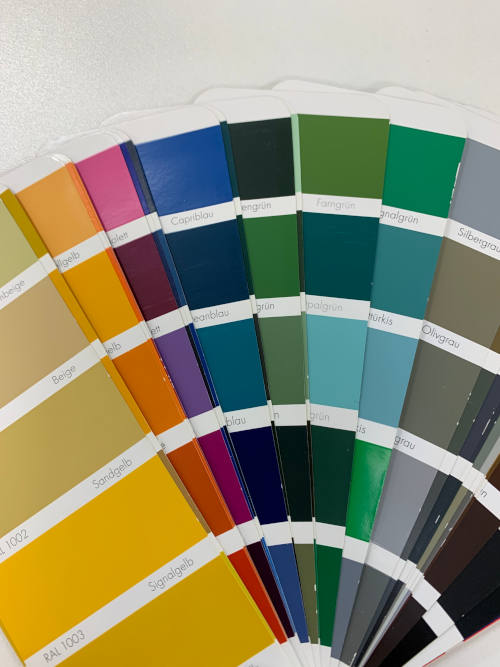 | Wide range of colour options
| Specification:
• Compact hood
• 2" Flat style lath
• Heavy duty T-section bottom rail
• 75mm x 50mm x 6mm Fixing angle
• Powered by 240v tubular motor
• Fire door interface panel
• Key switch or rocker switch operation
• Uninterruptable power supply unit (UPS) / battery backup with shelf
• Fire tested to both rigid and flexible structures
| Options:
• Fire door interface panel with audio / visual warning
• Heat detector
• Smoke detector
• Galvanised as standard (curtain, guides and canopy) with primer painted fixing angles and end plates, or fully polyester powder coated to a RAL or BS colour
| Power Supply:
13amp Single phase fused spur / isolator. The Phoenix must have a maintained power supply.
Fire alarm requirements – normally open volt free signal.

This drawing is copyright and exclusive property of Alliance Door Engineering Ltd and must not be copied, used or exhibited without prior consent.
TECHNICAL SPECIFICATION
Operation – Keyswitch / Rockerswitch
Typical Application
Kitchen Servery / Reception Counter
MAXIMUM SIZE
3000mm WIDE x 3000mm HIGH
CURTAIN
2" flat lath galvanised to BS729:1971, 20swg (0.9mm) thick. Alternate laths are fitted with high quality pressed steel endlocks, which are double pop riveted to prevent lateral movement. The curtain is attached to the shutter barrel using high tensile hexagon head set screws. A high strength inverted "T" section bottom rail is added to the base of the curtain for rigidity and fire integrity.
BARREL
4" Outside diameter electric resistance welded tube (BS6323) which supports the steel bearing blocks. 240 volt tubular motor, complete with manual overide, limits and planetary gearbox.
FLAGS
Endplates are constructed from flat 6mm thick mild steel plate (BS 1449) bolted to the endplate using high tensile hexagon head bolts. The motor drive endplate is fitted with a motor mounting plate using hexagon head high tensile set screws, the non-motor end is fitted with a lost bobbin arrangement. Fixing angles are formed using hot rolled angle section, 75mm x 50mm x 6mm, attached to the fixing angles are the galvanised (BS 729:1971) shutter guides, the guide section is typically 2 1/2" in depth x 1" inside dimension, the guide thickness is 3mm. The flags are coated in a black primer paint finish.
HOOD
Slotted Fire Hood made from 20swg mild steel, galvanised to BS729:1971, c/w 50mm x 9mm obround shaped slots.
SAFETY
Safety brake required if the shutter is fitted covering a pedestrian access/egress points. Please refer to your own risk assessment.
ELECTRICAL REQUIREMENTS
SINGLE PHASE
13 AMP FUSED SPUR / ISOLATOR
SUPPLY REQUIRED WITHIN 1 METRE OF MOTOR SIDE
POWER / ACTIVATION DETAILS
PHOENIX FIRE SHUTTERS ARE LINKED INTO THE FIRE ALARM SYSTEM AS STANDARD, OTHERWISE A LOCAL SMOKE DETECTOR WILL BE REQUIRED (BY OTHERS) TO ACTIVATE THE SHUTTER. THE FIRE SIGNAL REQUIRED IS A NORMALLY OPEN VOLT FREE SIGNAL.
A PHOENIX FIRE SHUTTER MUST HAVE A "MAINTAINED SUPPLY", A BATTERY BACK UP SYSTEM CAN BE PROVIDED AT AN EXTRA COST.
RELEASE MECHANISM
ACTIVATED UPON RECEIPT OF SIGNAL FROM FIRE ALARM / SMOKE DETECTOR. THE TUBULAR MOTOR DRIVES THE SHUTTER TO THE FULLY CLOSED POSITION.
OPTION – FIRE DOOR INTERFACE PANELS & REPEATERS
ACTIVATED UPON RECEIPT OF SIGNAL FROM FIRE ALARM / SMOKE DETECTOR. A TIME DELAY CAN BE PROGRAMMED IN TO THE F.D.I. PANEL, WHEREBY THE SIGNAL WILL BE HELD FROM THE SHUTTER UNTIL THE PROGRAMMED TIME HAS ELAPSED. DURING THE TIME DELAY THE F.D.I. PANEL WILL FLASH "FIRE DOOR CLOSING", SIMULTANEOULSY AN AUDIBLE ALARM WILL SOUND. ONCE THE TIME HAS ELAPSED, THE DOOR WILL DRIVE DOWN UNDER POWER UNTIL IT HITS THE BOTTOM LIMIT.
WEIGHT
35 KGs Per Square Metre
Space Requirements
Face Fix
Maximum Width: 2500
Motor Sideroom: 150mm
Non-Motor Sideroom: 76mm Per Side
With Brake: 150mm, 150mm Per Side
Between Fix
Maximum Width: 2500
Motor Sideroom: Lose 178mm
Non-Motor Sideroom: Lose 70mm
With Brake: Lose 178mm, Lose 178mm
Maximum Height: 2600, 3000
Headroom: 275mm, 330mm