Finding the perfect industrial doors can be a real problem, especially if you need to protect extremely large openings. Most shutter companies can only provide standardised doors or smaller openings with effective folding rollers. Here at Alliance Doors, we can deliver industry-leading Ram-Fold sliding folding shutters which protect all kinds of industrial and commercial entrances.
Our hard-wearing large-scale folding shutters can provide effective protection for entrances up to 30000mm wide and 8000mm high. This is perfect for any kind of large industrial space and, in the past, has even been used to provide effective protection for aircraft hangers. They can also be used to provide high-levels of security for large entrances with high-traffic flow.
Are Ram-Fold Sliding Folding Shutters Ideal for Industrial Spaces?
When it comes to larger roller shutters, there is a range of potentially difficult aspects to deal with. In some cases, they can be difficult to operate – especially on a daily basis and can take a great deal of time to fully open and shut. There is also the risk that the shutters could take damage at any point which could force the entire roller to be replaced.
Here at Alliance Doors, we can provide hard-wearing, huge roller doors for industrial spaces. We take care to ensure that our large-scale roller shutters are quick and easy to open. Thanks to the industry-leading materials that we use, it will also be extremely resistant to all kinds of damage.
There is also the risk that strong winds can cause a great deal of problems for these larger models. Fortunately, the ram-fold shutters that we can provide are able to provide effective resistance against winds in excess of 150mph.
Unique Options for Ram-Fold Sliding Folding Shutters
There is a wide range of options available for large roller shutters which can make them the perfect choice for your large industrial or commercial entrance. Just some of these unique features can include:
Brush Strips Top and Bottom – These can help to eliminate smaller debris under the roller doors. This can prevent damage to both the shutters themselves and the surfaces around them. They are also essential when it comes to reducing the operating noise of the roller door itself.

Heavy-Duty Top and Bottom Tracks – When most roller shutters of this size suffer damage, it is normally due to low-quality top/bottom tracks. The stress that these models are placed under can lead to a great deal of damage. In the worst cases, these tracks can become buckled and prevent the shutters from closing or opening at all.

Thanks to the hard-wearing materials we use, you'll be able to use these roller shutters for many years without worrying about their reliability.

A Wide Range of Safety Features – In addition to hard-wearing locks, these models come equipped with a diverse range of safety features. This includes key switches and manual overriding operations.
Choose Alliance Doors for Huge Ram-Fold Sliding Folding Shutters in the North-West
Here at Alliance Doors, we can provide a comprehensive range of large-scale shutter solutions for all kinds of properties. Whether you're looking for industrial sliding folding doors, or a large-scale entrance for commercial properties, our team are here for you. Our industry-leading large-scale models, which can cover all kinds of entrances up to 30000mm wide and 8000mm high, are the ideal choice for all kinds of environments.
In addition to large-scale roller shutters, we can also provide a comprehensive range of insulated and high-speed shutters to suit smaller entrances on your property.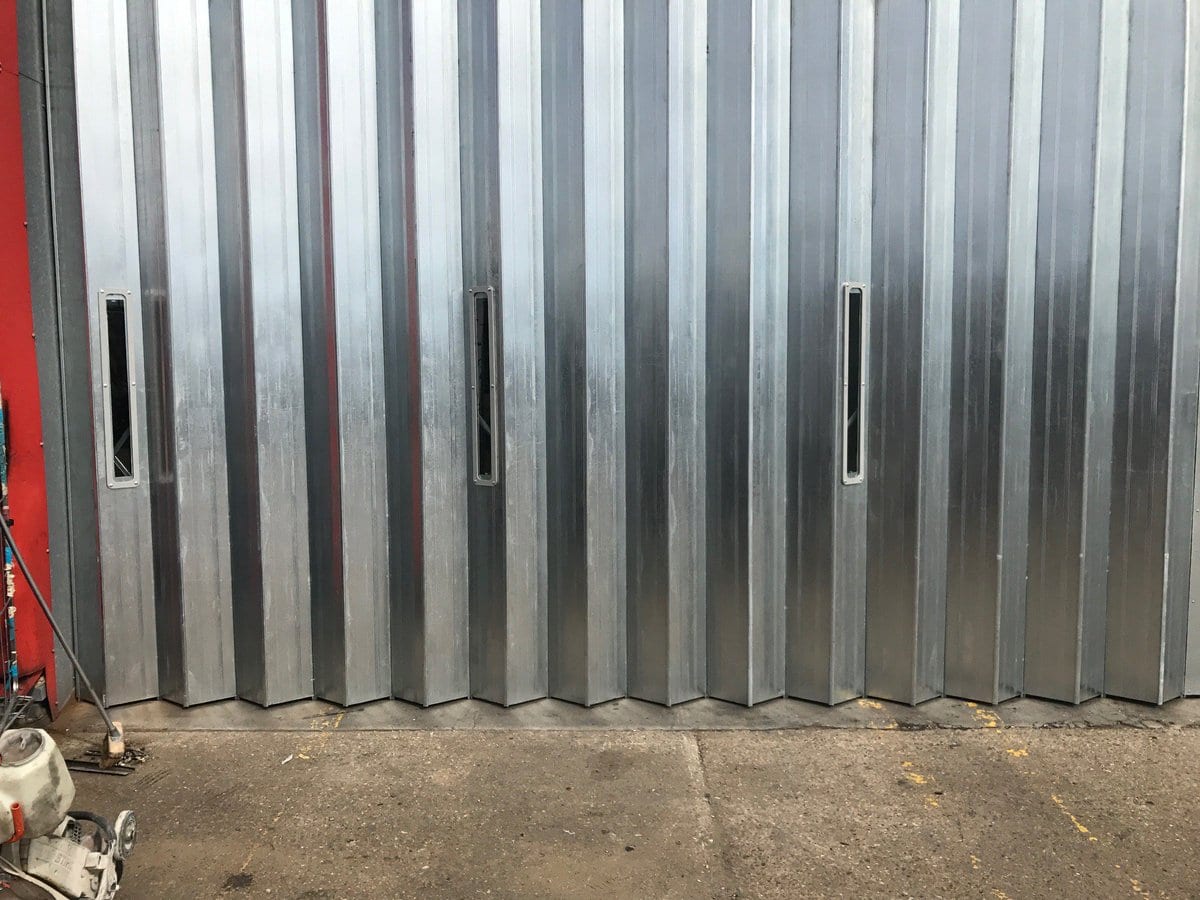 Our models are made-to-measure, meaning that you will only ever receive a shutter model which suits your needs perfectly.
All of our models have been designed and extensively tested to meet with all relevant EU and UK criteria for both safety and security. In addition to being CE marked, our designs have also undergone extensive testing by Exova Warrington, to ensure that are providing the highest-possible standard of roller shutters in the UK.
If you're looking for more information, or you want to equip your airplane hangar, commercial property or industrial facility with large-scale sliding folding shutters, then Alliance Doors is here for you. You can reach our team directly by calling us on 01942 683601 or, if you prefer, take advantage of our online contact form and we'll get back to you at a time that is convenient to you.